Evenimente importante 18 septembrie
De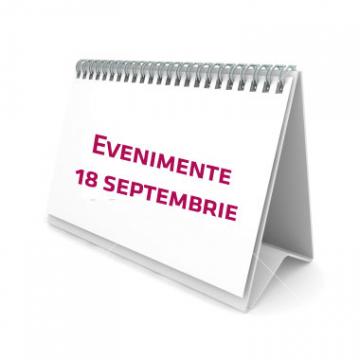 18 septembrie este a 261-a zi a calendarului gregorian si a 262-a zi în anii bisecti. 104 zile ramase pâna la sfârsitul anului.
Evenimente
* 1600: Mihai Viteazul este învins la Miraslau
* 1809: Se redeschide "The Royal Opera House " numita pe atunci Theatre Royal cu premiera Macbeth.
* 1851: A aparut prima editie a ziarului american The New York Times sub titlul The New York Daily Times.
* 1879: A avut loc, la Bucuresti prima vizita oficiala a principelui Bulgariei, Al. de Battenberg. (18/30 septembrie - 25 septembrie/7 octombrie)
* 1904: A aparut, la Bucuresti, pâna în anul 1930, saptamânalul umoristic "Furnica".
* 1911: Regizorul Grigore Brezeanu a realizat primul film artistic românesc: "Amor fatal", "drama sentimentala aranjata pentru cinematograf". Acesta corespundea aspectelor dominante ale productiei mondiale din acea vreme. Din distributie faceau parte Lucia Sturdza-Bulandra si Tony Bulandra, A. Barbelian.
* 1914: S-a încheiat Acordul secret ruso-român prin care Rusia, în schimbul neutralitatii prietenoase a României, recunostea dreptul tarii noastre asupra teritoriilor locuite de români aflate în Austro-Ungaria. (18 septembrie/1 octombrie)
* 1947: A fost inaugurat Teatrul Municipal din Bucuresti, cu piesa "Insula" de Mihail Sebastian.
* 1951: Premiera în S.U.A. a filmului Un tramvai numit dorinta, realizat dupa piesa cu acelasi titlu a dramaturgului american Tennessee Williams. Filmul a fost regizat de Elia Kazan, care a fost si regizorul piesei de teatru montata pe Broadway.
* 1974: A fost inaugurat, la Sfântu Gheorghe, judetul Covasna, Monumentul Ostasului Român.
Nasteri
* 0053: Traian, împarat roman (d. 117)
* 1587: Francesca Caccini, compozitoare si interpreta italiana (d. 1640)
* 1786: Regele Christian al VIII-lea al Danemarcei si al Norvegiei (d. 1848)
* 1795: Papa Grigore al XVI-lea (d. 1846)
* 1819: Léon Foucault, fizician si astronom francez (d. 1868)
* 1905: Greta Garbo, actrita suedeza (d. 1990)
* 1907: Arsavir Acterian, avocat si scriitor (d. 1997)
* 1923: Regina Ana, sotia regelui Mihai al României
* 1948: Andrei Oisteanu, eseist si traducator
* 1948: Mihai Timofti,regizor de opere, operete si filme, în prezent regizor la Teatrul National de Opera si balet din Republica Moldova
Decese
* 0096: Domitian, împarat roman
* 1569: Pieter Bruegel cel Batrân, pictor flamand (n. 1525)
* 1831: Vasile Cârlova, poet (n. 1809)
* 1860: Joseph Locke, inginer britanic de cai ferate (n. 1805)
* 1909: Grigore Tocilescu, istoric, arheolog, epigrafist si folclorist (n. 1850)
* 1962: Krikor H. Zambaccian, critic si colectionar de arta, membru al Academiei Române. (n. 1889)
* 1867: John Douglas Cockcroft, fizician britanic (n.1897)
* 1872: Regele Carol al XV-lea al Suediei si totodata Carol al IV-lea al Norvegiei (n. 1826)
* 1970: James Marshall "Jimi" Hendrix, una dintre cele mai mari personalitati ale hard-rock-ului, chitarist (n. 1942)
* 1975: Pamela Brown, actrita britanica de film (n. 1918)
* 1980: Katherine Anne Porter, scriitoare americana (n. 1890)
Sarbatori
* Chile: Ziua nationala - Aniversarea proclamarii independentei (1810).